We help tech companies and startups worldwide build the software of their dreams. Our great selection of talents, obsession with quality, strong communication skills, and high degree of responsiveness lead 98% of our clients to choose us again.
Meet Apriorit
15+
Countries represented by clients
Headquarters
In Delaware, USA
6
Quality assurance teams
Professional
Research and reversing team
How it all started
The story of Apriorit began in Dnipro, Ukraine in 2002. Over the years, our company has grown from eight to over 350 people, expanded its geography, and brought quality software engineering services closer to our clients worldwide. Today, we have a headquarters in Delaware and six offices in Europe and Ukraine.
In the last two decades, we've expanded our expertise from corporate security, driver development, and software research to such challenging yet inspiring areas as the blockchain, artificial intelligence, and reverse engineering. Today, Apriorit delivers sophisticated software development services to Fortune 500 companies and ambitious startups worldwide, creating products that allow our clients to succeed.
The mastermind behind this great company was Dennis Turpitka. When he was just 24, Dennis gathered a small group of talented young professionals and started his own company. Over the years, this company has grown into a big family of passionate, high-profile experts working in several offices all around Ukraine.
Our greatest inspiration —
Dennis Turpitka
Starting up Apriorit was my way of ensuring that I can make a difference by doing what I like the most. The way we build software and communicate — with a keen focus on each client's needs and wants — is what allows us to make impossible things possible.
Founder and CEO of Apriorit, member of the Forbes Technology Council
In January 2022, Dennis passed away. He was our main role model and an inspiration for every member of the Apriorit family. Even though Dennis is not with us anymore, we'll continue making impossible things possible to honor his legacy and see his lifetime's work flourish for many years ahead.
Apriorit

is a place where everyone gets an opportunity to grow and shine by unleashing their passion, innovation, and creativity.
7 Fundamental Values of Apriorit people
As a family, we share the same perspective and values.
Professionalism
We're responsible, competent professionals who take each project as a mission.

Stability
We keep our heads cool in any situation and make well-calculated, rational decisions.
Consistency
We're result-oriented and always deliver what we've promised.
Teamwork
We grow together, united by mutual trust, respect, and amiability.

Innovation
While constantly searching for a better solution, we encourage each other's creativity and ambitions.
Enjoyment
We enjoy what we do. A lot.
Ecology
We try to make this world (and ourselves) a little bit better.
Social responsibility
At Apriorit, we believe we can make this world a better place by giving back and helping our community to rise. We also believe that youth should have equal access to education and innovative technologies no matter their age, gender, nationality, or social status.
This is why for years, Apriorit has been supporting several social programs and educational initiatives aiming to empower young people with IT knowledge and skills:
Computer Science scholarship program for US students
We want to support young people who are passionate about innovative technologies and software engineering. Since 2017 through 2021, Apriorit has been offering a $1000 educational grant for US students enrolled in computer engineering or computer science programs.
Technovation
To close the gender gap in the IT community, Apriorit supports the Technovation Challenge. This initiative aims to give girls aged 10 to 18 an opportunity to learn more about IT technologies and take part in the world's largest tech and IT entrepreneurship competition.
Oles Honchar Dnipro National University
Many Apriorit family members are graduates of the Oles Honchar Dnipro National University, and Apriorit has been supporting this school for years. We equipped one of its computer labs with new computers and network systems so that students can effectively master their newly gained skills. Also, Apriorit specialists often host lectures for university students, sharing their insights on IT technologies and practical solutions.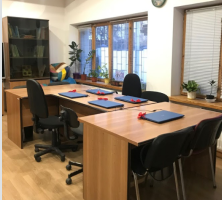 Giving Joy charitable foundation
To help kids with special needs improve their computer skills and master media literacy, Apriorit has equipped the Giving Joy charitable foundation with a new computer classroom.
Free software development courses
To give talented young people a chance to dive into the IT industry and learn from the best, Apriorit has been regularly hosting free C++ courses for students since 2006. Those who successfully complete these courses we invite to join the Apriorit family.