Save your time

for greater deeds

Managing an outsourced development team requires time and resources on your part. You need to learn the team's skills and establish communication. The best option is to hire a project manager (PM) who is already familiar with your outsourcing experts and knows how to efficiently organize all project processes. With our PMs, your processes and communications will be well-established, your deadlines and budget will be met, and you'll be comfortable with the transparency of your project workflow.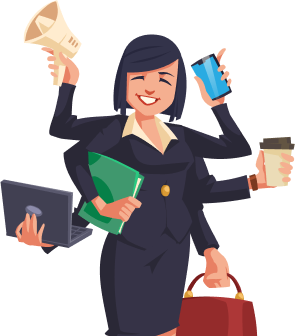 At Apriorit, you can outsource a project manager as part of a development team or as an individual specialist to help your team successfully deliver projects. Our PMs have vast experience working for different industries and expertise in various development areas, allowing them to efficiently manage any project.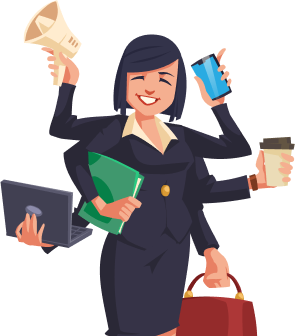 Delegate project management to professionals
By hiring outsourced project managers at Apriorit, you bring valuable skills and experience to your team. Our PMs acquire technical knowledge that helps them successfully manage IT development projects of any complexity.
With Apriorit project managers, you can:
Kickstart product development
Effectively communicate with your outsourcing team
Ensure a transparent development process
Improve team management and motivation
Why choose Apriorit project managers?
Expert skills and niche expertise
Leverage our PMs' expertise working in various industries and with different tech stacks. We'll assign a manager with skills and knowledge relevant to your project.
Efficient team management
Apriorit PMs gladly work with distributed teams, ensuring smooth integration of outsourced developers in your in-house processes and team. Knowing the strengths and weaknesses of each team member, our PMs keep everyone motivated and efficiently use the team's skills to deliver your project on time.
Time and effort savings during all development stages
With our professional project management services, you can free your own resources and focus on internal business activities. Delegate time-consuming day-to-day tasks to our PMs and they will take care of everything.
Compliance with the project schedule, budget, and scope
Our PMs know how to optimize the workload and effectively use project resources. Your PM can quickly address arising issues to make sure the team meets both project deadlines and budget requirements.
Convenient communication
Apriorit PMs ensure smooth and productive communication between you and your team members. We make sure everyone is on the same page about every project detail. This helps us create a successful workflow for every project. We also update you on the project status in weekly or daily reports.
A fresh perspective
Apriorit PMs keep an eye on the market, competitors, and trends in the project's niche. This helps them better understand the product's business value. Our PMs can look at your project from a different angle, assess it impartially, and offer new development workflows, management tools, etc.
Bring transparency to each project stage
When all preparations are finished and all documents are signed, the development team starts working. From this point, the PM's task is to coordinate the project team and control project progress. PMs manage risks during development and identify and troubleshoot threats before they materialize.
Project management
workflow

at Apriorit
Initiate the project
Plan for execution
Execute the project
Monitor and control
Close the project
First, our PMs define the project's mission, objectives, and constraints, as well as identify all stakeholders.
Key methodologies and tools
When choosing a methodology and framework for managing your projects, we keep in mind the specifics of your product. For each project management activity, Apriorit PMs have preferred tools. However, we always discuss the toolset with you and your development team to make sure everyone is comfortable with the choice.
Agile
Waterfall
Kanban
Scrum
Project Management Body of Knowledge (PMBoK)
Earned value analysis (EVA)
Burndown Chart


Make PM outsourcing smooth and convenient
Even with all the benefits, hiring an outsourced project manager instead of using the talents of an in-house PM can raise concerns. We understand this. Here's how we mitigate the most common concerns:
What if I feel like I'm not in charge of the project?
How can I be sure of the quality of the final product?
How can I be sure of data security and confidentiality?
How can external PMs understand the specifics of my business?
What if there are communication issues in the team?
What if outsourcing project management will lead to additional costs?
To make every project stage transparent, our PMs:
Update you on the project status and discuss critical decisions.
Acquire solid technical knowledge to manage the process at the technical level.
Arrange regular meetings with you and provide detailed reports.
What our clients say about us

How did Apriorit perform from a project management standpoint?
They never say no and have always been flexible and professional. Their project managers have taken away many of the headaches associated with software development and I've learned to trust that, if I require something from them, I will receive a reply and it will be done.
Eyal Dotan,
CEO at Borta
(Extract from an independent review on Clutch.co)

Could you share any statistics or metrics from this engagement?
Apriorit has a dedicated, hardworking team. They're always willing to work extra hours and work on holidays if we have an issue. I have nothing but great things to say about the engineers and our project manager from Apriorit. Whenever I bring something up, such as performance issues with a certain resource, Apriorit will be quick to either fix the situation or find another person for our team.
Vice President of Development,,
information technology company
(Extract from an independent review on Clutch.co)
Check out the latest articles
Software development management is a complex process. To deliver a quality product, you need to gather and organize the work of field experts and rare…