When developing software or delivering services, you probably want your offerings to be popular among users and better than your competitors' alternatives. Unfortunately, this is challenging to achieve.
To make sure your services stand out, it's essential to thoroughly research the market and carefully analyze what your rivals are doing. You need to identify market trends, define must-have features, constantly search for improvements, analyze other market players, and strengthen your marketing strategy.
In this article, we discuss what competitor research is, what benefits it brings, and how to conduct a competitor analysis.
What is a competitor analysis and why do you need one?
According to the 2022 State of Competitive Intelligence report from Crayon, 98% of stakeholders say that competitive intelligence is important to their company's success. To understand your competitive environment, be able to predict your rival's next steps, and gain a market advantage, you need to conduct a thorough competitor analysis.
What exactly is this analysis and how can it benefit your solution?
A competitor analysis, also called a competitive or competition analysis, is the process of identifying your competitors and evaluating their strategies, sales, marketing tactics, products, and services. The goal is to determine strengths and weaknesses of existing solutions and identify potential opportunities where you can outperform them.
The benefits of analyzing your competitors can vary depending on your specific goals and the ways you conduct research. Here are a few examples of advantages a competitor analysis can bring:
Understanding industry standards and trends and finding ways to meet them
Discovering untapped market niches and new ways to fulfill customer needs
Implementing strong business strategies and differentiating your brand
Differentiating your products or services and capturing market share
Enhancing your marketing strategies and measuring your growth
Based on our experience, Apriorit's business analysts (BAs) outline four key reasons to perform a competitor analysis.
Let's explore these reasons in detail:
1. Learn industry trends. The purpose of learning industry trends is to gain a clear understanding of what your customers need and expect instead of simply copying what your competitors do. To do that, you'll need to:
Explore competitors' major features and functionalities
Identify new capabilities you haven't offered yet
Analyze whether new technologies are appearing that could outperform your product
2. Identify both your and your competitors' strengths and weaknesses. A proven way to do so is by analyzing customer feedback on competitors' products:
Negative feedback will help you understand what your competitors are doing wrong and think about how to avoid similar mistakes. It could also highlight your solution's strengths if your solution has features your competitors lack.
Positive feedback will show you what makes your competitors' services attractive in the eyes of users. It will also show you what can attract more customers to your product.
Then, make sure to give all the information gathered to your marketing and sales teams so they will know what to emphasize when communicating with prospective users or customers.
Pro tip: Check whether your competitors have a suggestion page where users can suggest features they would like to see. We often explore such pages to get a better understanding of unobvious user needs.
3. Target the most effective marketing strategies. Observe your competitors' marketing practices and see which are efficient and which you can adopt and customize for your product. Pay attention to the selling points that are most likely to be appealing to customers, such as pricing and particular technologies, how user-friendly the design is, and whether the company offers non-trivial customer services.
Such an analysis can help you choose the most efficient marketing practices and maybe even come up with new strategies your competitors haven't taken advantage of.
4. Locate gaps in your competitors' offerings. Observe which customer needs are left unmet by your competitors' services or products and figure out ways you can cover them. By doing so, your product can fill an existing gap and stand out.
With all this information in mind, let's discuss how to perform a competitive product analysis.
How to conduct a competitive analysis
Before we explore what to include in a competitive analysis and its main stages, let's define the timeline for a competitive analysis and discuss when you should start conducting one.
The best time to perform a competitive analysis is whenever you feel the market situation in your field might change. Run the first analysis at the very beginning of your project. After you release your solution to the market, make sure to periodically update the competitor analysis. The frequency of such updates heavily depends on your market's specifics and conditions: at least every six months for fast-growing markets and once a year for stable markets.
In Apriorit's experience, we often receive customer requests for preparing a software competitive analysis as a starting point for developing a minimum viable product (MVP). This is because during the MVP development stage, you should clearly understand the market situation, determine what are reasonable prices, and select the features that will help your product stand out.
A competitive analysis can be helpful at every stage of your product life cycle, no matter whether you start with an MVP or go for a full-scale project right off the bat. Here's a four-step approach that we suggest for an efficient competitive analysis: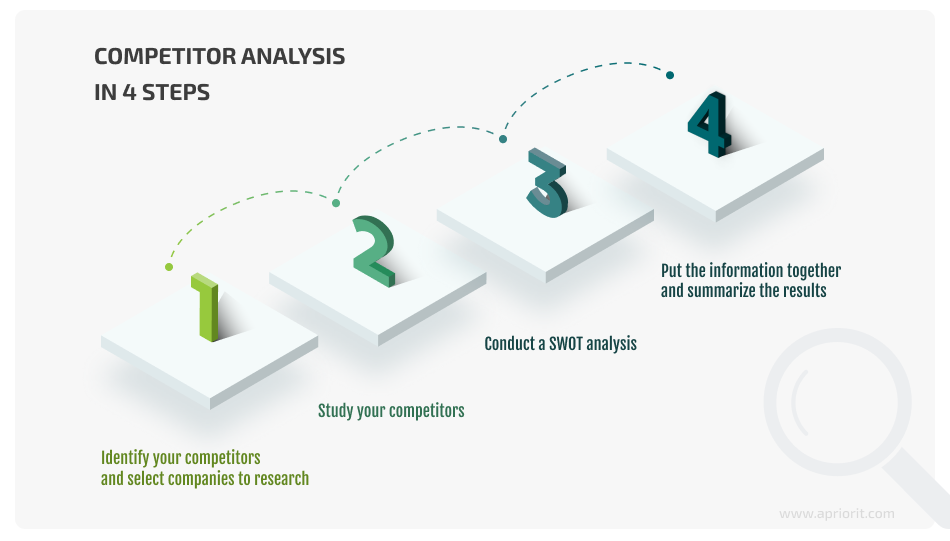 Let's explore each step in detail.
1. Identify your competitors and select companies to research
Consider starting with answering these three questions:

1.1. How can you determine who your competitors are?
Before you start looking for other players on the market, it's essential to clearly identify search criteria and know types of competitors. Start with answering the following questions:
Who is your target audience?
What is the main issue your target audience wants to address?
How does your product solve this issue?
Now, you need to find companies whose answers to these questions match yours. Depending on how companies solve their target audience's problem, they can be your direct or indirect competitors:
A direct competitor offers the same product or service and solves the same issues as the product or service you want to create. By assessing direct competitors, you can identify their strengths and weaknesses, and prioritize features on your own product roadmap.
An indirect competitor solves the same issues for the same target audience but in another way or offers a similar product for a different audience. It could also be a business that offers the same service as yours with the same approach but solves different issues.
Considering indirect competitors can help you:
Find ideas for non-standard features
Identify a potentially strong player who may become the biggest competitor early on
Find a new prospective customer segment for business expansion
To determine indirect competitors, consider using the Jobs-to-Be-Done theory of innovation based on the principle that people buy products and services to get jobs done.
1.2. Where should you look for competitors?
Places to look for potential competitors vary depending on your industry. For software solutions, as for other digital businesses, you can start with a simple web search. Here's a list of effective approaches we use at Apriorit to find products and services similar to the projects we work on:
Search for rankings of top players. Search for a list of top players in your market. Example of search phrases: Top 5 antivirus solutions in 2022, most popular email security services, etc.
Check out software marketplaces and product review platforms. Explore resources like Crunchbase, Capterra, TrustRadius, G2Crowd, and Product Hunt that give a general overview of products, their owners, features, prices, etc. In addition, such websites often have alternatives or comparison sections and group products by categories.
Read online reviews. Check reviews on Google, Gartner Peer Insights, Software Advice, TrustRadius, Capterra, G2Crowd, and Clutch, and see what products have the most reviews. Of course, reviews are subjective, but they can reveal the strongest and most popular solutions.
Use website traffic, SEO, and SEM solutions. Services like SimilarWeb, SEMrush, and Google Analytics provide information about online traffic, keywords, search engine dominance, and more. Their engines can help you gain insights about your competitors in general and their web marketing strategies in particular.
Once you create a short list of competitors, visit the official websites of selected companies and look through their declared missions, goals, mottos, product overviews, etc. This will help you double-check that these organizations are indeed your competitors and find additional information about their offerings.
Pro tip: If you have difficulties drawing up a list of competitors and can't find companies in your product category, focus on one main feature. Then, look for possible rivals on sources like Capterra and Gartner Peer Insights. Double-check whether these companies are your competitors, browse their websites, and finalize a shortlist.
One of our clients once requested an application similar to a remote access management solution. They had a narrow target audience of highly skilled users. Before conducting competitor analysis for the client, we only knew about one direct competitor. We used the technique described above and identified two more companies with almost similar feature lists and target audiences. In addition, they turned out to have several interesting and useful features that inspired new ways to enhance our client's product.
1.3. How many competitors should you analyze?
The best approach is to conduct thorough competitor research on three to five companies rather than superficially exploring a dozen companies.
The ratio between direct and indirect competitors you analyze will depend on your objectives:
If you need to assess what features are a must and arrange your backlog, pay attention only to your direct competitors.
If you want to add something completely new to your application or find a feature that will help your product stand out, include one or two indirect competitors.
Also, if there are only a few players in your market, consider including one or two direct competitors (if they exist) and focus on indirect competitors. A list of two or three companies will be enough to help you analyze the market.
2. Study your competitors
Once you've gathered all the information about competitors' products we mentioned above, it's time to structure it and start analyzing it. Competitive analysis techniques can be divided into four high-level categories:
1. Business & Company Metrics. We recommend starting by collecting basic information about your rivals: the company's year of founding, names of the CEO and other key people, office locations, target audience, etc. You can find most of this information on competitors' websites, LinkedIn profiles, Crunchbase, and Capterra.
2. Product. Research of competitors' products or services should include the year of their launch, a list of features, supported platforms, etc. It's likely that the list of key features can be quite long, so here is a tip: group related features to keep everything organized.
3. Users & Awareness. Analyze how competitors represent products, brand popularity, customer opinions, advertising strategies, and pricing options. Explore how a competitor's support performs and how the company educates users to understand what approaches are most relevant for your market. You can use your findings to improve your product's UX.
4. Marketing. Marketing frameworks and techniques can help you gain insights into competitors' products and summarize your research. The top marketing techniques that have proven extremely useful in our experience are:
Note: Don't try to do this all at once.
All of these marketing techniques can be useful depending on your focus. Carefully choose one to start with and scrupulously collect the required data. If you realize you don't have enough information after using one of them, you can always pick another technique.
In our experience, SWOT analysis is the most frequently used technique, as it provides lots of valuable insights. Let's discuss it in detail in the next section.
3. Conduct SWOT analysis
At Apriorit, we use a SWOT matrix after the main research stage in which we analyze the company, the product, the company's marketing, and users' awareness. A SWOT matrix helps us and our clients see the whole picture of a competitor. In addition, the SWOT technique is ideal for summing up your product's strengths, weaknesses, opportunities, and threats.
Let's explore what SWOT stands for:
Working with a SWOT matrix can be beneficial at any stage of project development. For example, one of our clients requested that we develop a new desktop application in quite a short time and provided us with their MVP and business requirements document.
To meet the deadlines, our developers started working right away. Simultaneously, we involved an Apriorit business analyst to conduct competitor research, as there was a lack of information regarding the market, competitors, and must-have features.
After our BA identified three direct competitors and obtained an overview of the companies, we analyzed key product features, product pricing, strengths and weaknesses, and user feedback. It turned out that the market was small and not saturated, and competitors were operating in the same region. As a result, opportunities and threats were the same for all players.
To sum up the information, our BA created a SWOT matrix with the strengths and weaknesses of our client's application and the market opportunities and threats. Here's an example of what the filled-out SWOT matrix looked like: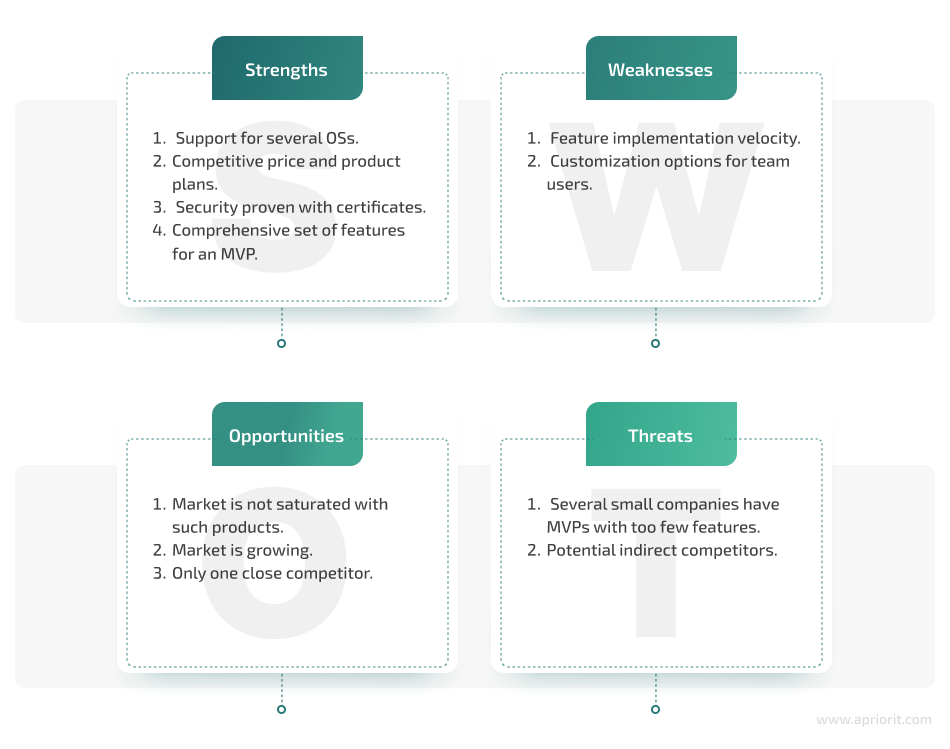 As a result, this research and SWOT analysis helped us better understand the market, discuss future work with the client, and improve our backlog.
4. Put the information together and summarize the results
The most convenient way to have all your information in one place is by creating a comparison table with all features of products on the market. Don't forget to include your product even if you're at the very beginning of development. Pinpoint the differences and similarities between products.
Use tables to compare features of different products and mark features that your solution has. This visualizes functionality represented by each company, showing you which features are popular or widespread and which are unique or rare. Here are a few tips:
Explore resources and files competitors offer their users to discover all features or to check whether a product has a certain feature.
If some features are sold as additional products, highlight them with another color to distinguish such crucial information.
For each company, make a list of the features your product and your competitor's product share, features that are partly overlapping among your application and your competitor's products, and features only your competitors have.
Then, you can use this table to create a list of possible features and improvements for your application. We've used this framework many times and it has always been effective for developers and stakeholders.
The last step is to combine all your data and summarize it.
Make sure to update the competitive analysis with the required frequency: at least every six months for fast-growing markets and once a year for stable markets.
Pro tip: Don't focus on the same organizations each time you perform competitor analysis. With time, even small players can become rivals.
Once, while working on a product that had only a few competitors, we picked the two key companies with the biggest market shares for analysis. However, our BA also added to the report a few companies that could potentially grow in the future. The next year, we found out that one of these small companies did a full product rebranding and prepared a large-scale marketing program. We quickly informed our client about this and did an updated competitor analysis for them. This helped us advise significant improvements to the client's product.
Conclusion
No matter what software you're developing, you'll always have to adjust your product strategy to ever-changing customer and market needs. One way to ensure that is by performing a thorough competitive analysis for software products.
Researching your competitors is a great way to better understand the market and your own product, learn about the issues your users have along with ways to solve them, and find ideas for new features.
However, to make sure you don't miss anything important during a competitor analysis, it's critical to work with a professional business analyst. At Apriorit, we have a team of experienced business analysts ready to help you analyze the market, discover relevant approaches and techniques, and ensure a top-quality product. With our expertise in different fields and regions, Apriorit's BAs can come up with a strong and efficient research strategy that serves your business objectives.
Do you need a thorough competitive analysis? Contact us to leverage the experience of Apriorit's business analysts!