To benefit from the blockchain, business owners require in-depth expertise to evaluate how exactly blockchain technology can improve their product or service and to clearly understand what investments they need to bring their idea to life. Otherwise, there's a high chance of encountering lots of unexpected expenses along the way and ending up with an unsuccessful project.
In this article, we explain how to calculate the development cost for different types of blockchain-based solutions and what factors to take into account. This article will be interesting for business and product owners who are thinking about creating a blockchain project from scratch or improving an existing one and who would like to learn about estimating the cost of a blockchain application.
Contents:
Estimating the cost of blockchain application development: where to start
Blockchain technology can be beneficial in various industries including healthcare, e-commerce, FinTech, and logistics. It's no wonder the global blockchain technology market is expected to grow at a compound annual growth rate of 87.7% from 2023 to 2030 according to Grand View Research.
However, many decentralized projects seem to fail, and Cointelegraph even claims blockchain projects continue to experience failure rates in excess of 90%. There are many reasons for such failure, and miscalculating the project cost is one of them.
How much does it cost to build a blockchain app?
Let's start with defining the term. Usually, blockchain application means software that uses a blockchain either as its core technology or as an additional technology. But whichever level of involvement the blockchain has in your project, estimating the cost of blockchain implementation can be difficult.
The main issue is that the total cost depends on multiple elements. Thus, before estimating the cost of implementing a blockchain, it's essential to clarify your project's key technical specifics. Here are nine crucial questions you need to answer:
What deliverables do you require? For instance, you may require a proof of concept (PoC), minimum viable product (MVP), prototype, or full-scale solution.
What types of product interfaces do you require? You might want to include a web application, mobile app, admin interface, or all of these in your project.
What is the level of blockchain involvement? The price might vary significantly depending on whether you need to build a new blockchain product or integrate a blockchain with an existing one.
What type of blockchain hosting do you want for your product? There are differences between developing a solution based on a private vs public blockchain, and which you choose will affect the total cost.
What consensus mechanism does your product need? Commonly used mechanisms are proof of work, proof of stake, delegated proof of stake, proof of activity, proof of capacity, and proof of identity.
How many blockchain platforms do you plan to use? Usually, blockchain solutions require one platform, like Ethereum or Tezos, but some complex projects might require a combination of platforms.
Does your application need to deal with financial transactions? Ensuring efficient and secure mechanisms for financial transactions requires thorough planning and careful implementation, which will impact the project cost.
Does your product need cloud computing outside of the blockchain network? The need for cloud computing will also significantly affect the project's architecture, development plan, and final price.
How many end users do you expect to interact with your platform? The number of users defines the load your solution should handle. And if you plan to grow your product with time and attract more end users, it's essential to plan the scaling mechanism beforehand, which also impacts the total cost.
By supporting general information about your project with detailed answers to these questions, you will help your development team understand the big picture. Then, they can come up with additional questions to ensure an accurate blockchain development cost estimate for your project.
Thanks to our deep experience in blockchain development, we know what pitfalls to expect and what details to ask about before rushing to work. This helps us provide clients with realistic predictions of the time and cost for their projects and reduces the risk of unexpected expenses.
Now, let's explore factors that impact the price of a blockchain application the most.
3 main factors that impact blockchain development cost
The more nuances of a project you share with your service provider, the more accurate the cost estimate you will receive. But since blockchain development is quite complex, considering all nuances is not an option.
That's why at Apriorit, we came up with a list of core considerations when estimating the blockchain cost for your product, with the three main factors being the following: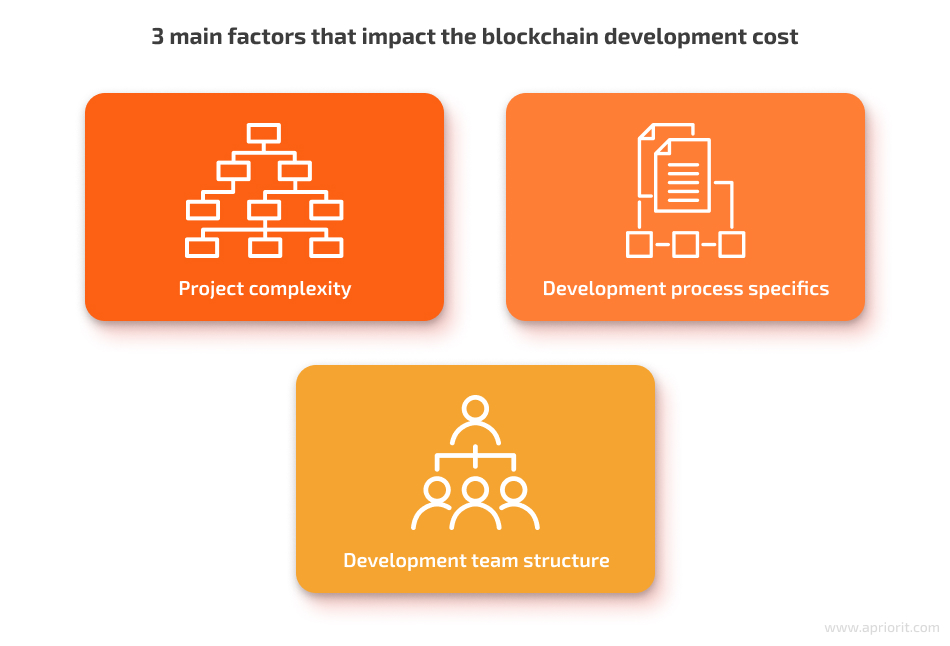 Let's explore each category in detail and look at the most important factors that define the cost of your blockchain application.
Project complexity
One of the crucial factors dictating product development cost is the complexity of a project. This includes:
Planned application complexity
Type of blockchain application
Purpose of the application
1. Application complexity
At Apriorit, we classify blockchain applications into three complexity levels: low, medium, and high.
The complexity of a project depends on a range of factors, with the most important being the following:
Data structures. In contrast to traditional database schemas, data on a blockchain is stored in blocks that are chained together. Each block contains a timestamp and a link to the previous block. This makes it more difficult to query data on a blockchain. If your solution will use a blockchain as the core technology, this will significantly affect the application's complexity and final price.
Cryptography. This helps you secure the blockchain's data and ensure that only authorized users can access it. Although cryptography adds an extra layer of security to your system, it also makes it more complicated to develop applications that interact with the blockchain. Advanced cryptography algorithms, such as those used in public blockchain networks like Bitcoin, can increase expenses for mining, transaction fees, and network maintenance. Less complex cryptography algorithms are cheaper, but they may not offer the same level of security.
Consensus mechanisms. A consensus mechanism is a set of rules that allow a blockchain network to agree on the ledger's state. Each type of consensus mechanism has its own tradeoffs in terms of security, decentralization, cost, and efficiency. Today, two of the most widespread consensus mechanisms are proof of work and proof of stake.
Platform. You can build a blockchain application on a variety of platforms, such as Ethereum, Algorand, Tezos, Solana, Cosmos, and Polygon. Each has its own unique set of features and capabilities. The platform chosen for a particular application will directly impact the application's complexity.
APIs. Despite the availability of a variety of prebuilt APIs, at some point, an application may require the creation of an API for a particular use case, such as authenticating and auditing data, managing smart contracts' interactions with the system, storing and retrieving data, and generating key pairs and addresses. Prebuilt APIs will certainly cost less than a custom API created from scratch.
You can see rough estimates of the time and cost for blockchain projects at each level of complexity in the table below (as of the time of publishing). We also give a few examples of projects at each level of complexity to make the table easier to understand.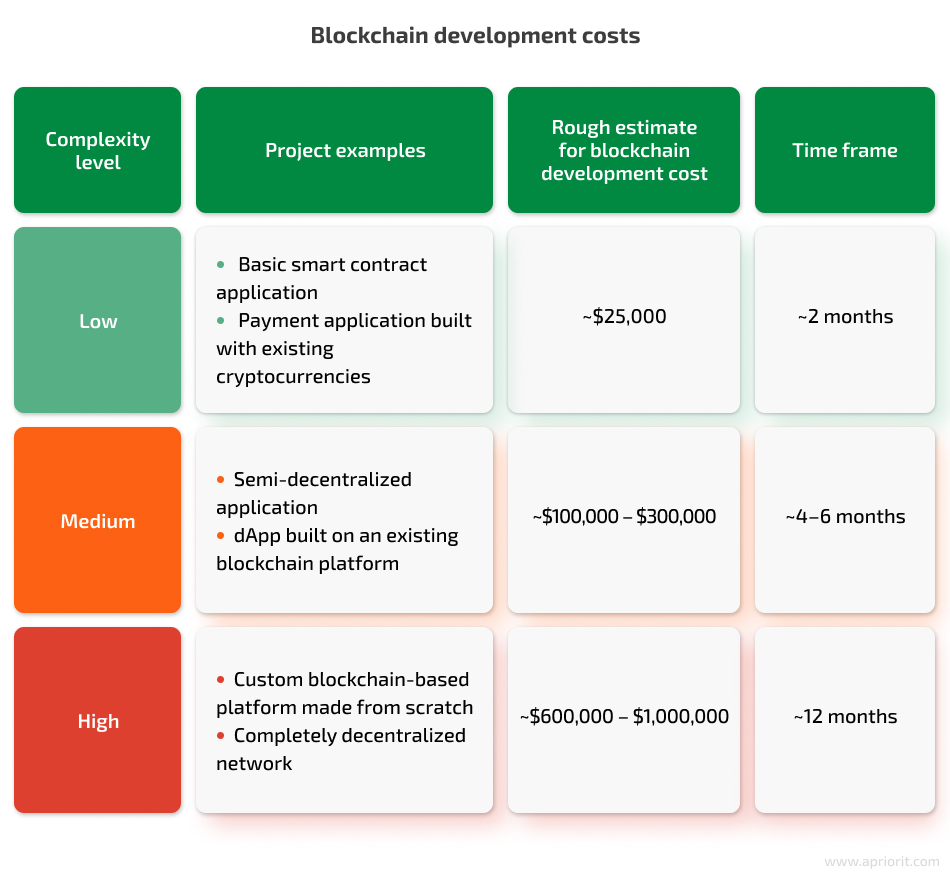 Now, let's see how project cost varies depending on the application type.
2. Blockchain service type
As blockchain technology continues to develop, transform, and gain new use cases, new types of applications and services appear. Let's take a look at some of the most popular types of blockchain services and explore how they impact the overall cost of developing a blockchain product.
1. Smart contracts
Smart contracts are one of the most popular features of blockchain technology. They are an essential part of decentralized applications (dApps) that allow the execution of transactions without needing a third-party intermediary. Also, smart contracts can save businesses money on transaction fees.
However, developing smart contracts can be complex and time-consuming. Engineers have to spend significant amounts of time eliciting and analyzing the required features, ensuring that everything works smoothly and securely within the blockchain network.
Also, depending on the business objectives and the selected blockchain platform, your solution may require the implementation of multiple smart contracts written in different programming languages.
Estimated price: Building secure and reliable smart contracts for your project usually costs Apriorit clients from $4,000 to $8,000. An application with a basic smart contract might cost you around $25,000.
2. Cryptocurrency exchanges
A cryptocurrency exchange application provides secure and robust application infrastructure to users who want to trade crypto tokens. The cryptocurrency exchange market is growing rapidly.
However, cryptocurrency exchanges require a higher level of security and more functionality than traditional exchanges. This leads to high development costs.
Estimated price: From our experience, developing a basic blockchain exchange costs around $70,000 to $100,000.
3. Wallets
A cryptocurrency wallet is another must for any crypto-related project. A wallet stores private keys, enabling a user to send and receive cryptocurrencies.
The cost to develop a blockchain wallet app can be tricky to estimate. Due to the sensitive nature of the data involved, wallet development can be complex and costly. For example, depending on the platform – web extension, website, mobile, desktop – your project might require several different types of wallets.
Estimated price: Our experience shows that a reasonable estimate for the cost of developing a crypto wallet would be between $50,000 and $80,000.
4. NFT marketplaces
An NFT marketplace is a decentralized blockchain platform that helps users buy and sell non-fungible tokens (NFTs). For a couple of years now, NFTs have been emerging as a popular investment among business enthusiasts, as tokens can represent a product or service sold on a decentralized platform.
Just like other blockchain-based services, NFTs inherit some security and scalability concerns that have to be addressed during development.
Estimated price: Creating an NFT marketplace with Apriorit usually costs between $25,000 and $50,000. However, the cost may vary depending on your business requirements and specific needs.
5. Blockchain security audits
High requirements for security and transparency of blockchain-based solutions make security audits equally important as development.
Our team often audits the security of blockchain-based solutions by conducting smart contract code reviews, penetration testing of crypto wallets, infrastructure security checks, and other types of analysis. Based on the results, we provide a detailed audit report that covers our methodology, discovered vulnerabilities, and recommendations for eliminating them.
Estimated price: The security audit service starts at around $5,000 with Apriorit.
3. The industry
Industry-specific solutions don't significantly influence the cost of blockchain implementation if you need to use this technology as additional functionality for a ready project. But if you're starting a project from scratch, then industry-specific cases will have a severe impact on the entire solution: its complexity, development expertise and skills, cybersecurity requirements, etc.
To give you a general idea of how the price varies for creating comprehensive products for different industries using blockchain technology, we list rough estimates for a few industries:
Financial sector: $60,000+
Healthcare: $55,000+
Public sector: $70,000+
On-demand economy: $40,000+
Social media: $45,000+
Specific compliance and cybersecurity requirements also increase the development price. To ensure your product is secure and meets all compliance requirements, developers need to plan relevant functionalities, carefully implement them, and test them throughout the entire project lifecycle.
At Apriorit, we pay close attention to fulfilling security requirements, assessing potential risks, and ensuring regulatory compliance with AML/CFT and KYC, SEC, FINRA, GDPR, ISO 27001/27002, HIPAA, etc.
Development specifics
The application development process also hides lots of technical nuances that can be unobvious but can impact the final cost.
Once you consider all the high-level requirements of your blockchain project, it's time to dive into technical details. And understanding these details may allow you to more precisely estimate your development budget.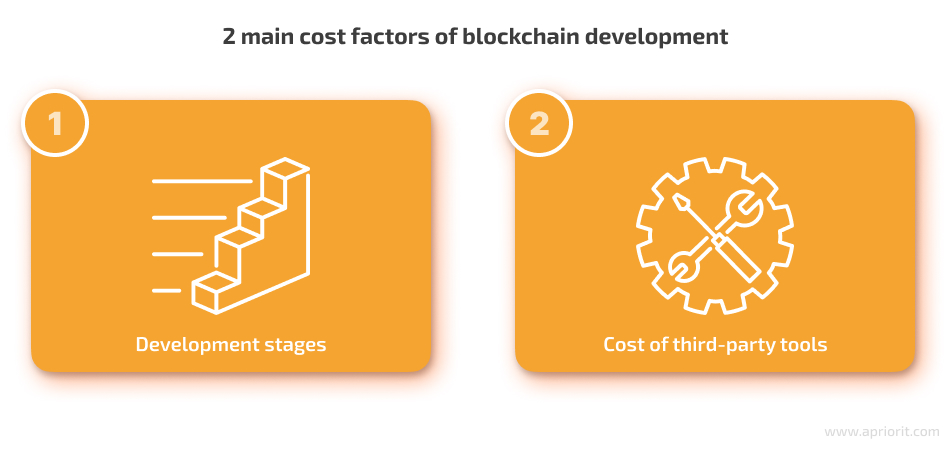 1. Development stages
The cost of blockchain implementation also depends on activities during each project phase. Different types of blockchain applications may require different activities during development. However, the major milestones for creating the majority of IT products are the following:
Discovery phase. This is the first phase in software development, whose goal is for your team to collect all necessary information about the project to have a full picture of the product before development begins. As a result of the discovery phase, you will receive an accurate estimate of the time, money, and other resources needed for software development.
UI/UX design and requirements documentation. This phase includes working on UI/UX design wireframes, high-fidelity and/or low-fidelity designs with a prototype, the system blueprint, vision and scope, system requirements specification, etc.
Development. The application development phase consists of working on architecture design, coding and review, database and API preparation, etc.
Testing. Depending on the testing approach, this phase will include different types of testing, including automated and/or manual testing.
Deployment and maintenance. During this phase, engineers work on cloud deployments, product delivery, smart contracts deployment, and various DevOps activities. Maintenance involves delivering updates and testing that your application runs smoothly on new operating system versions.
Here is an approximate share of the cost of each stage for a new project: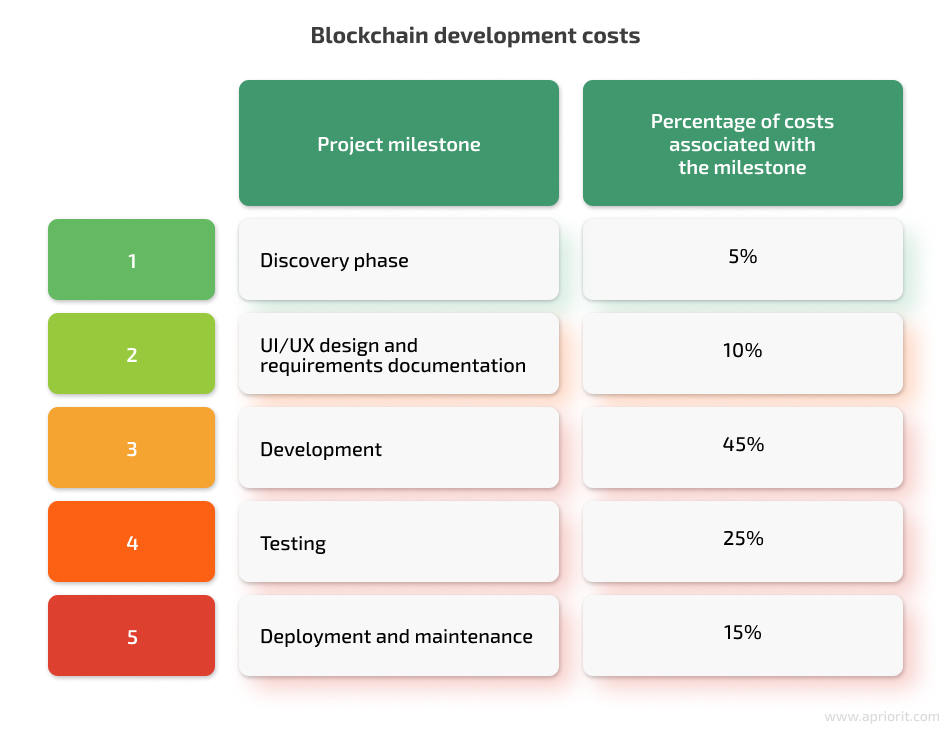 Some projects also require phases such as:
Migration: Moving the existing solution to the blockchain platform. This phase is optional and is usually required if there is an existing application that needs to be improved using blockchain technology.
Upgrading: This involves implementing new features, making changes to smart contracts, etc. We didn't include it in the table because it's usually the next step in cooperation, and its price is outside the scope of the first product launch.
2. Cost of third-party tools
Just as any other product, a blockchain-based application requires investment in different third-party tools and technologies that are not included in the cost of a vendor's services.
For instance, you may need to pay a certain fee to deploy or run a contract on a blockchain platform. Also, developers use repositories like Bitbucket and GitHub to store and manage code. And since new blockchain platforms enter the market, you might want to switch your application to a different platform depending on the scalability, flexibility, and confidentiality of platforms currently available. Such a shift will contribute to the blockchain app development cost as well.
The specifics of your project define the type and number of third-party tools you need. Below, we outline a few general categories of vendor solutions that are common for the majority of blockchain-based products:
Infrastructure platforms for computing, delivery, and storage (such as Amazon Web Services)
Blockchain nodes and API development providers (such as Alchemy and Kaleido)
Bug tracking tools for gathering and reporting live bugs (such as TestRail, Instabug, and Bugsee)
Monitoring services for sending downtime notifications (such as Uptime Robot and Statuspage.io)
Notification services for enabling notifications in applications (such as Twilio, Kumulos, and Amazon SNS)
Analytics solutions for data analysis and reporting (such as Flurry and Mixpanel)
Development team structure
Last but not least is the cost of hiring a blockchain development team.
When choosing a vendor, make sure they have relevant expertise and experience in the technologies you're going to use, and ensure they meet your requirements in terms of standards and quality.
For a basic project, you may need a small team of four or five experts, including a backend developer, blockchain developer, business analyst, designer, quality assurance manager, and project manager. You'll need more team members for a more complex project or if you have tight deadlines and need to speed up the process.
To create a blockchain-based application, you can expand your in-house team, hire freelancers, or hire a dedicated outsourcing team. Let's explore each option in detail.
1. Outsourcing team
An outsourcing company specializing in blockchain app development can be the best option for working on a niche project such as a blockchain application, and here's why:
Agencies serve as full-time development service providers, gaining experience with projects of different complexity, with different requirements and feature sets, and for various industries.
Such companies develop and acquire unique niche expertise, so it makes more sense to benefit from those valuable skills through outsourcing rather than to spend time and effort hiring and retaining such specialists in your in-house team.
The cost of blockchain app development offered by agencies is usually lower than the cost of hiring and maintaining an in-house team.
Thanks to extensive experience, outsourcing agencies have worked out business processes, and therefore are more reliable than freelancers in terms of meeting requirements and deadlines.
You can specify desired deliverables and deadlines in a contract with your vendor. This means you can rely on them and focus on your core business competencies.
If you plan to work with an outsourcing company, you might need to consider the agency's size, as it will also affect the pricing of your overall development process. All companies can be divided into three groups by their size:
Small companies, with 10 to 50 employees, often charge significantly less than midsize and large companies because of the need to build their work portfolios. However, they may not have all the necessary expertise or enough software engineers to cover the scope of your project.
Midsize companies, with 51 to 1000 specialists, are a happy medium for most projects. They usually have decent knowledge and experience building high-performance applications and, at the same time, affordable prices. Moreover, such companies often have expertise outside the blockchain domain, so they can fulfill extra requirements for things like artificial intelligence integration, Internet of Things, etc.
Large companies, with over 1000 software engineers, have lots of specialists on board with different skills and experience in creating applications for various industries. They can offer you the most relevant team members. However, such vendors are quite careful in selecting projects because of financial management specifics, contract terms and conditions, etc.
2. In-house teams
Having your own team of blockchain software specialists gives you full control over app development. However, gathering and maintaining a team with specific skills is tricky.
Here are a few key challenges to expect when gathering an in-house team:
Searching for and hiring developers with niche skills and experience relevant to your industry and project specifics can be extremely time-consuming.
Due to a scarcity of experienced blockchain developers, hiring your own blockchain developer could be more expensive than hiring a blockchain development outsourcing company.
Maintaining your own team means extra expenses on employees' insurance, vacations, incentives, workspace needs, etc.
Some project tasks may require niche expertise for a short period of time, meaning there's no sense in hiring new employees for the long term. In this case, it makes more sense to involve a freelancer or an outsourced specialist in your in-house team.
3. Freelancers
Hiring freelancers would be the least expensive way to develop a blockchain-based app.
However, when searching for a freelancer with relevant experience and skills, you are likely to face issues related to availability, response time, and quality of the delivered solution.
You could consider hiring a freelancer if your project is small, as the risk factor increases when the project scope grows.
Conclusion
All IT projects have their own hidden pitfalls that make it tricky to estimate the final price of app development. And calculating the cost of products that require advanced technologies like the blockchain is even more challenging because of their numerous nuances.
At Apriorit, we know that the more factors are considered during the estimation process, the more accurate the final estimate will be. By asking additional questions and discussing technical details with our clients, we discover what pitfalls and difficulties to expect and how they will affect the blockchain development process. Thus, we manage to draft a detailed project budget and help our client see the big picture before the project even starts.
Considering starting a blockchain project? Contact us to receive a professional technical consultation and an accurate cost estimate!