The transportation and logistics industries are constantly struggling with challenges like complex competition, changing customer expectations, and leveraging digitalization in order to succeed.
One of the most promising ways for transportation companies to improve their workflows and find new ideas for business growth is using a custom SaaS system. These systems ensure faster data processing and better automation of operations than out-of-the-box solutions. They also allow companies to build only the features they need.
In this article, we explore why using SaaS solutions for transportation management is beneficial for logistics companies and consider the major types of these systems. We also take a look at their essential elements and highlight technical recommendations for SaaS transportation management systems.
This article will be interesting for those who are developing cloud solutions for logistics needs and want to enhance them with cutting-edge technologies. It will also be helpful for owners and managers of logistics companies and companies related to the logistics industry who are considering switching to SaaS systems to improve their workflow efficiency.
Managing logistics in the cloud
The logistics industry is vast and complicated. Transportation and logistics processes can have varying levels of complexity, and companies in this industry solve lots of issues related to managing vehicle fleets, warehouses, routes, documentation, etc.
Digital solutions for logistics are essential, as companies have to:
Deal with lots of data and documentation
Comply with government regulations
Facilitate many operations every day
Gather statistics to detect weak points
Analyze their current workflow and finds ways to improve it
React fast to unexpected issues
SaaS logistics management solutions bring lots of advantages to businesses. The cloud-based architecture of software as a service (SaaS) solutions solves some issues that arise with on-premise software.
For instance, on-premise solutions need to be installed on computers and other devices, and fees are usually charged for each additional feature or system upgrade. Moreover, there's a risk that upgrades will negatively affect stored data.
We've listed the major benefits of SaaS solutions over on-premise solutions in the infographic below.
Using SaaS solutions for logistics: pros and cons
SaaS systems have already proved their efficiency in various industries, providing businesses with advantages primarily in terms of reduced costs and flexibility. Let's take a closer look at the most significant benefits of using SaaS solutions for logistics management:

Improved workflow. SaaS solutions optimize the logistics workflow and free employees from performing routine tasks connected with paperwork, for instance.
Simplified data handling. Thanks to cloud technologies, businesses can simplify the process of storing, using, and securing data. Also, they can use forecasting features to make more accurate deliveries, minimize inventory losses, and prevent last-minute emergencies.
Improved data analysis. Logistics is a sphere of multitasking and multiprocessing. Robust SaaS solutions are essential for tracking details and conducting analysis, which helps businesses detect issues and find ways to optimize their work.
Full supply chain visibility. SaaS solutions for logistics companies provide real-time visibility into logistics processes and data, helping companies keep their operations under control.
Improved collaboration within the industry. SaaS logistics solutions help companies achieve a more predictable supply chain, while companies can connect in the cloud to collaborate efficiently.
Financial benefits. With SaaS, there's no need to install software on your computers and pay for per-device licenses or server management. On the contrary, cloud-based solutions offer companies the opportunity to pay only for features they use, minimizing software expenses and ensuring faster ROI.
Although SaaS solutions may seem perfect, they still have a few known shortcomings that have to be mentioned: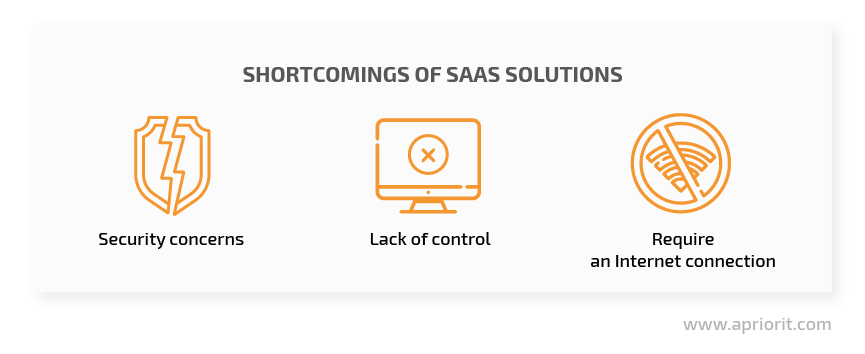 Security concerns. Concerns with the security of sensitive data often arise when it comes to clouds and hosted servers. For example, some SaaS solutions have weak authentication technologies or insecure interfaces and APIs. Therefore, you should choose only trusted cloud providers with robust security measures for your SaaS systems.
Lack of control. Software stored in the cloud is less tightly controlled by the customer than on-premise software. Sometimes, users are afraid of their data being compromised when it's not tied to on-premise resources. Also, there's an issue of upgrades that SaaS users often can't defer.
Require an internet connection. While on-premise solutions can operate without an internet connection, SaaS solutions are hosted online and require constant web access. A slow internet connection can cause issues with software performance.
What tasks can be solved with a SaaS solution for logistics?
SaaS solutions for the transportation industry can be presented in various forms depending on the services a company provides.
Early logistics solutions covered one specific task and were designed as a stand-alone system for:
Transportation management
Fleet management
Enterprise resource planning
Warehouse management
Customer relationship management
Let's take a closer look at the tasks a SaaS solution for logistics can handle:

Traditionally, each of these tasks was handled by a separate system.
Transportation management system
Features for a transportation management system ensure effective planning, execution, and optimization of shipments. Such functionality is often used by manufacturers, retailers, distributors, and companies that provide logistics services. The main goals of a transportation management system are to improve shipping efficiency, reduce costs, and gain real-time supply chain visibility.
With proper transportation management functionality, organizations can:
Schedule shipments
Track cargo
Manage bills and payments
Perform freight rating and choose the best rate
Select the appropriate route and carrier
Find and compare rates and services of available carriers
Book shipments and track their movements
Fleet management system
Fleet management system functionality covers such important tasks as tracking vehicles (trucks, vans, cars, ships, planes, etc.) while they're in transit using GPS trackers. Unlike transportation management solutions, fleet management systems are strictly concentrated on fleet maintenance and the connection between vehicles and operating centers.
Businesses need fleet management features to:
Track vehicles
Store and process information about vehicle diagnostics
Communicate with drivers via automated text messages
Plan routes
Plan fuel and other supplies
Manage drivers' schedules
Comply with legislation
Monitor safety and speed limits
Ensure vehicles are regularly maintained
Enterprise resource planning system
An enterprise resource planning (ERP) system helps businesses track corporate resources and automate processes across all departments. In logistics, an ERP can be used for managing the flow of daily information in real time and providing access to it for all involved parties.
Applying an ERP functionality to transportation, companies can:
Optimize inventory
Track inventory locations
Process purchase orders
Manage invoices and other documentation
Plan and manage deliveries
Create reports
Work with customer databases
Arrange efficient information flows
Warehouse management system
A warehouse management system is designed to help companies efficiently manage their warehouses. Warehouse management includes many operations that have to be conducted fast, accurately, and thoughtfully. The functionality of a warehouse management system allows for optimizing inventory movements within the warehouse based on real-time information.
The features of warehouse management systems help companies automate the most complicated processes to:
Help workers find goods fast and easily
Organize inventory in warehouse facilities
Integrate various third-party systems
Automatically generate bills, invoices, and transportation documents
Track performance with advanced analytics and reports
Customer relationship management system
The features for a customer relationship management system are essential for businesses that want to get the most out of their interactions with prospects and customers.
Generally, companies have a wide choice of on-premise and SaaS CRM software. However, there's always a niche for solutions developed for companies within particular industries, and logistics is not an exception.
A typical CRM system helps businesses manage their sales pipelines, generate detailed reports, and find options to improve customer service.
Сustom solutions with CRM features for logistics allows companies to:
Keep all essential client records such as contact information, history of interactions, orders, payments, etc. in one place
Store information about each deal: route details, third parties involved, cargo details, etc. to simplify and accelerate work with established customers
Track sales processes, store information about customer feedback, and record all operations conducted as part of each shipment
Get detailed reports and statistics to analyze client preferences and improve customer service
However, as the industry has evolved and companies have grown into bigger corporations, more complex systems are now in demand.
Modern logistics software offers advanced functionality and integrations. This allows enterprises to handle all their business processes with one comprehensive tool.
Besides, with custom cloud-based solutions, companies can choose only the functionality that covers their needs and improves their workflow.
Key features required for a SaaS logistics solution
Depending on whether you're going to build SaaS transportation software to cover a specific issue such as cargo forwarding or ship management or build a multipurpose system for complex enterprises, your feature set will vary.
However, we can list a few key features that should always be considered when building a SaaS solution for logistics and transportation.
Ensure your solution automatically calculates shipping prices, taking into account numerous details. The challenge is that the price of logistics services can consist of a number of costs and a fixed profit margin.
Logistics managers may need to calculate costs for fuel, drivers' services, vehicles, and transportation via sea or air as well as customs expenses, port fees, and more. It's also essential to keep a record of seasons when prices and rates of third-party services are higher to accurately calculate the final price.
With a top-notch forecasting feature in their logistics system, companies will know what to expect in the near future regarding demand, supply, prices, and rates. Forecasting functionality for small companies can be designed by analyzing the past workflow and making predictions based on it. Larger enterprises that have business analytics departments require more sophisticated systems with more complex algorithms to ensure proper scheduling of production, avoid financial losses due to rate miscalculations, etc.
Extended forecasting features will significantly enhance your software by improving the decision-making process in such core areas as transportation, fleet management, and asset planning. To ensure strong forecasting capabilities, consider implementing modern technologies like artificial intelligence (AI) for predictive analytics.
Automatic load planning is essential for large logistics companies with thousands of shipments annually. The purpose of this feature is to solve the problem of distributing cargo units between multiple customers and third parties while using the vehicle fleet efficiently.
Your logistics software has to take into account such parameters as cargo type, routes, warehouses locations, vehicle types, delivery dates, and customs regulations. Also, the load optimization feature should have customization options to make the process of load planning more convenient for all users.
Knowing where each shipment is in real time provides visibility and helps businesses better manage their work, keep customers satisfied, and detect and solve issues before they turn into problems and extra fees. For example, if managers notice the estimated date of a vehicle's arrival has shifted, they can immediately notify customers and other involved third parties to avoid penalties.
To provide strong shipment tracking functionality, arrange a proper connection between GPS trackers in trucks and your software. If you need to track ships, you can use existing online services that show ships' locations.
Third-party system integration
Your solution should be capable of connecting with other software solutions your customers may use. However, even a complex system should have an option for integration with third-party services. These could be accounting software, programs for customs documentation, or tools for cooperation with ports.
When planning a SaaS logistics system, you should pay attention to the integration issues of your users and think of ways to overcome them.
Creating, gathering, and processing documentation can take lots of time. It also requires employees to be extremely accurate and attentive to details. Even experienced managers and accountants can make a mistake because they're tired.
Make sure your SaaS system is customizable enough to help businesses automate the process of creating and sending invoices, bills of lading, guarantee letters, various reports, and other financial and transportation documents.
Technical recommendations for building a SaaS logistics system
The architecture and feature set for your SaaS logistics software depends on its purpose. Nevertheless, you should explore existing trends and follow best practices to create a robust SaaS system for logistics. Let's take a look at some of the most significant technical recommendations you should consider when developing a custom SaaS solution for transportation and logistics:

Multitier architecture

. Logistics software that supports a multitier architecture is necessary when transportation companies have to simultaneously handle multiple customers, process tons of data, and work with numerous third parties (port authorities, customs, shipping agents, freight agents, etc.).

Customization options

. SaaS logistics software should be customizable so companies can easily accommodate it to their unique infrastructure. This is a great advantage since businesses often don't consider changing their software because they're used to what they have.

Internet of Things

. Consider implementing IoT technology into your logistics systems for better visibility. You can use IoT technology to arrange smart transportation by accessing real-time, accurate information about road conditions, optimize delivery routes, and get data from smart sensors in warehouses.

AI and machine learning

. You can add an AI-driven system for warehouse management to accelerate data collection and automate inventory processes. British supermarket Ocado is already using machine learning to optimize the layout of products in their picking area, allowing for a more streamlined process. AI can also be applied for predictive analytics. For example, AssetMetrics, an automated predictive planning solution, leverages AI technology to forecast customer demand, calculate expenses, and plan capacities.

Blockchain

. Blockchain technology is promising for the logistics industry in terms of improving transparency and traceability in supply chains and ensuring secure data exchange and a tamper-proof repository for documentation. Maersk and IBM are working on a blockchain-based tracking system that will show the transition and status change of goods through the supply chain, the status of customs documents and bills of lading, and other data.

Robust security functionality

. Logistics information contains lots of sensitive data: truck locations, cargo prices, personal information of drivers, employees, and customers. Use encryption to ensure this data is stored and sent safely. Also, think through secure authentication and limited access rights so that only trusted users can access sensitive information.

Support service

. Make your software user-friendly by providing high-level support services 24/7. You can also create guides, tutorials, and training modes to help customers get used to the new system. Additionally, think about building a chatbot to help users solve minor issues.
Having a ready-to-go digital solution is usually a great way to save time and effort. However, developing a custom SaaS solution for logistics has lots of advantages. Such systems are usually designed to cover specific business needs and are more convenient to use. Custom solutions are usually better designed and have faster performance since they aren't loaded with unnecessary features.
Conclusion
The SaaS market already includes solutions designed specifically for the logistics and transportation industries. However, many provide unnecessary functionality. Not to mention they lack cutting-edge technologies like artificial intelligence and machine learning.
The biggest advantage of a custom SaaS solution over a commercial one is that it isn't limited by anything. Custom systems provide companies with the exact tools they need to handle routine logistics tasks and manage their business processes how they want, eliminating the need to pay for each new user and additional modules.
At Apriorit, we have seasoned development teams who have experience creating SaaS solutions, including CRM and ERP systems, for various purposes and industries. Moreover, our specialists in blockchain and AI will help bring your solution to the next level. Contact us if you're ready to start developing a successful project with our team of professionals.