As the 2016 year begins, we can read a series of traditionally published recent trend analysis and predictions made by industry experts after watching the IT sector, analyzing statistics, and conducting surveys. Global IT outsourcing trend analysis is represented by CIO magazine, KPMG Shared Service & Outsourcing Institute, Gartner and others. Let's try to analyze what said findings mean for the software R&D service providers and what specific software development outsourcing trends we can mark out.
Written by:
Alexandra Zhyltsova,
Market Analyst of Apriorit
1. Managed units are trending.
The researches of global IT trends show growing interest to the managed services. Giving that it is an overall IT outsourcing market tendency, in terms of software outsourcing trends, it means higher interest to the managed units delivering results rather than working reports. Managed units (project teams) need no micromanagement from the client side and minimal control. They work with higher-level tasks and provide their own internal management capability taking responsibility for the deliverables.
Such approach helps clients to increase their process efficiency while also makes high requirements to a service provider.
Such trend can decrease the interest to outstaffing, while outsourcing resources will be expected to be more independent and self-managed.
At the same time, CIO experts predict that the businesses, who had bad experience with outsourcing providers, will return to the offshore captives establishing their shops at the cost-saving destinations and keeping full control on them in-house. This is one of the software R&D trends and an option for big businesses to diversify their in-house R&D resources, ensure process security, and save costs. Independent managed outsourcing R&D service providers will have to compete with this approach when penetrating big enterprise market, especially when penetrating core business.
2. Cost is still a "hygiene factor", but clients look for quality and skills.
According to the KPMG study conducted in 2015, 26% of respondents name cost savings as the rationale to outsource over the next 2-3 years, which makes it the most popular reason. But this time, it is closely followed by 2 other reasons: quality improvement (21%) and access to [rare] skills (19%).
Battle for talents is among software development trends right from the industry inception. In the mature technology markets like the US or Western Europe, talent and rare skill resources are in high-demand and thus associated with big players and high costs. Companies begin to search for the additional skilled resources overseas. For example, it would be very hard and extremely expensive to find a kernel driver development team in US in short terms, while there are software development offshore outsourcing market players providing such managed services.
For outsourcing providers, it means that low rates are not a market differentiator any more. They need to provide something more: valid experience, rare or niche skills, certified quality, service flexibility. They still have to find the ways to keep rates low, e.g. using the automation mentioned by CIO experts as a trending opportunity.
Niche skills and vertical project experience can be an opportunity for service providers, as experts name vertical integration as a growing tendency. Clients will be more and more interested not only in the skill sets, like .NET or C/C++, but also vertical technology knowledge as virtualization systems, cloud platforms, or security solutions.
3. Flexibility is important.
CIO surveys show two important shifts: service buyers adopt multi-vendor and multi-provider schemes while service provides become softer. As a client nowadays uses services delivered by multiple providers, outsourcers has to integrate into this processes and projects, becoming more flexible, ready to adapt and customize its own processes and standards. A provider should take into account that its team may work on a project together with other independent teams, using and modifying deliverables prepared by other parties and delivering results to be shared with multiple players.
At the same time, client business processes are quickly changing engaging new technologies and opportunities, fighting for efficiency and innovation leadership.
The ability to be flexible in terms of processes and standards will be decisive during next 2-3 years for outsourcing service providers, especially those penetrating the clients' core functions. The era, when they could set up their own conditions in return for the low rates, has passed.
4. Innovations: client-focused.
Cloud providers, who make the running on the IT outsourcing market, accustom their clients to the constant innovations. Outsourcing clients now expect providers to innovate, using all variety of new technology opportunities appearing almost each month: naturally in development technologies and software industry trends, but also in terms of processes.
It's not about innovation for innovation – these new technologies should improve collaboration and flexibility, once again. Cloud code management platforms, corporate collaboration platforms, virtual testing labs hosted in cloud data centers, IaaS usage are good examples. Relying on the flexible, cost-saving, and easy-expandable cloud infrastructures as well as introduction of all kinds of automation are particular software testing outsourcing trends.
5. Run-the-business IT vs change-the-business IT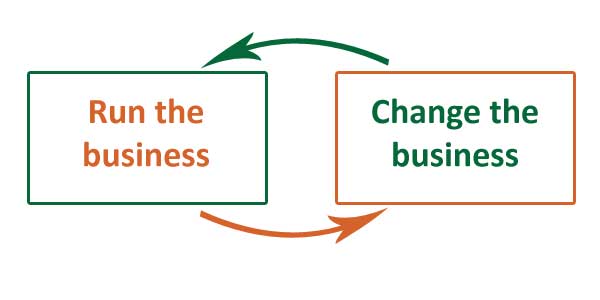 This interesting trend is described in the CIO study. Enterprises are going to differentiate these two strategies when choosing outsourcing providers. When considering software development trends, that means that providers should build their offerings clearly defining what purpose and business part they want to penetrate: will it be the in-house team extension or business expansion game-changer? Will it be core business penetration or non-core /new function introduction? The corresponding benefits, work scheme, and process customization will be required.
6. Increasing requirements to security.
Security has been among the current trends in software development industry for years. With security in the spotlight, outsourcing providers will be forced to make their business transparent to the buyers and finally streamline all legal aspects of the client relations, IP management, and business information protection. Modern software development outsourcing industry already has some formed legal basis including Non-disclosure agreements, explicit IP right transfer agreements, contract legal protection and other instruments. This part of the processes will become totally must-have for any provider.
—
Apriorit keeps pace with all latest software R&D outsourcing trends. We provide our customers access to the technology talent and secure mature processes. Apriorit managed teams have outstanding capabilities to deliver custom solutions according the schedule and quality standards. Take a look at the Apriorit's vertical experience.
References: